Typically made of high-strength steel, machine tool spindles are perceived to be solid, sturdy pieces of machinery. This is somewhat true, but spindle bearings and other mechanical components are high precision with tight tolerances as well as electrical components, all of which do not fare well under shock loads. So extra care must be taken when spindles are being sent out for repair. Once a spindle leaves home, there's a lot that can happen out in the wild before it reaches the repair facility. To help ensure that the trip is a safe one, a spindle must be carefully packed and properly shipped.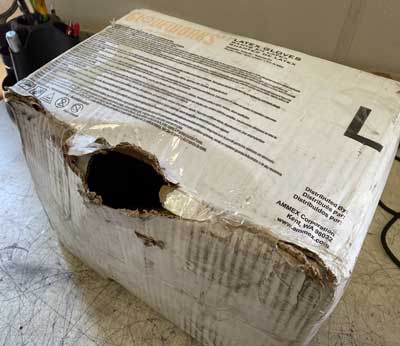 Failure to do so could result in further damage to the spindle, adding to your repair bills. On the extreme end of "spindle shipments gone wrong", we've had situations where we received just the packaging. That's it. The spindle slipped out into the great unknown at some point, never to be seen again. We've also seen spindles improperly packaged with light-duty material such as shipping peanuts, dirty shop rags or newspapers. None of these are suitable. Let's look at the correct way to do this:
Wrap it Up
The spindle should first be labeled with both the sender's and recipient's contact info (name, address and telephone), just in case it tries to escape. It should then be tightly wrapped in anti-corrosive paper. This will help protect it from moisture, dust, and other environmental threats. Next, you need to decide what packaging method you will be using. The decision depends on the overall size and weight.
Pack it Up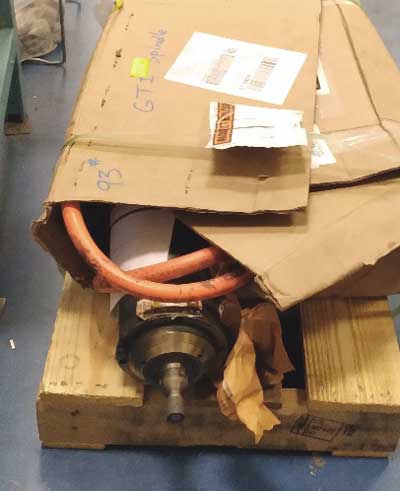 For smaller, lighter units, corrugated cardboard is usually suitable. Do use sturdy double-walled boxes, as standard thickness does not provide enough protection. For medium-sized units, a wooden crate is ideal. Next you must securely brace the spindle. This will help prevent damage and keep the unit from puncturing through the box or crate. Ideally, the use of v-blocks in conjunction with support/cross braces both front and rear of the spindle, foam molding system, or dense foam to avoid shifting. Don't just close boxes with one little piece of packing tape. Close them tightly and seal all open ends with heavy-duty shipping tape. Similarly, for crates, make sure they're properly sealed preferably with screws rather than nails.
Larger or heavier units should be strap mounted to a sturdy pallet, then shrink-wrapped to prevent direct exposure to the elements such as rain, snow, or whatever else it may come in contact with.
Ship it Out
Once your packaging is squared away, it's time to ship. For boxes and crates, the best tip we can offer is to declare/insure the spindle at a replacement spindle cost or approximation of it. For many carriers, doing so will mean it gets handled better than a typical package, it will get "white glove" or "high value" treatment. Crates and pallets over 75 pounds should be shipped via freight carrier. While most standard ground carriers will offer up to 150 pounds before dictating freight transport, weight capable and safe handling equipment is not always available or in use with these carriers.