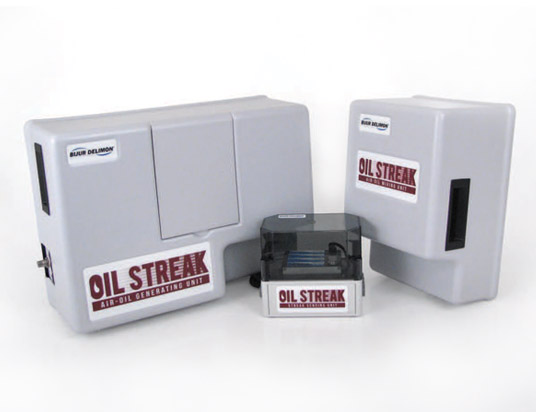 GTI Spindle Technology and Bijur Delimon International have partnered to create a unique Hyperformance AIR-OIL lubrication system for machine tools. The system can be retrofitted to high-frequency spindles designed for MIST or AIR-OIL injection systems and offer value found on more expensive systems and components in the United States. Principal industries served include: machine tools, railroad, steel, mining, printing, mobile, wind energy, food and beverage, textiles and material handling, among others.
Bijur Delimon International is a global leader in the design and manufacturing of various fluid dispensing products and systems. These systems range from simple single-point grease feeders to complex automatic systems that dispense oil or grease to hundreds of lubrication points. Bijur Delimon International also produces industrial cooling products backed by world-class on-site service and support worldwide.
The new line of Oil streak air-oil systems by Bijur Delimon combine the best of all world in a clean looking, precise, simple to use "PLUG & PLAY" format, designed to Outperform all competition in your most demanding high speed Spindle bearing applications.